The Fam – Family Business: A Look Back
 Coincidently I've gotten a few pictures recently and randomly from people who picked up the group project Family Business that I did a few years back with the homies Pizon and EJ under the name The Fam. I say Coincidently because recently Pizon and I reconnected and chopped it up about the project.
The first 3 episodes of "Family Business – A Look Back" are now on YouTube. There will be more to come with a new episode being released each week for the next several weeks. Go check them out, leave comments, share the videos, and check out the album.
Timid and Pizon (Jay Carter and Mike Scala) take a look six years back to 2009. The two emcees along with a third, EJ, released the album, Family Business, under the group name The Fam. Producers on the album included Mr. Porter (aka Kon Artis of D12), Kno of CunninLynguists, Domingo, Timid, and Gary Botello.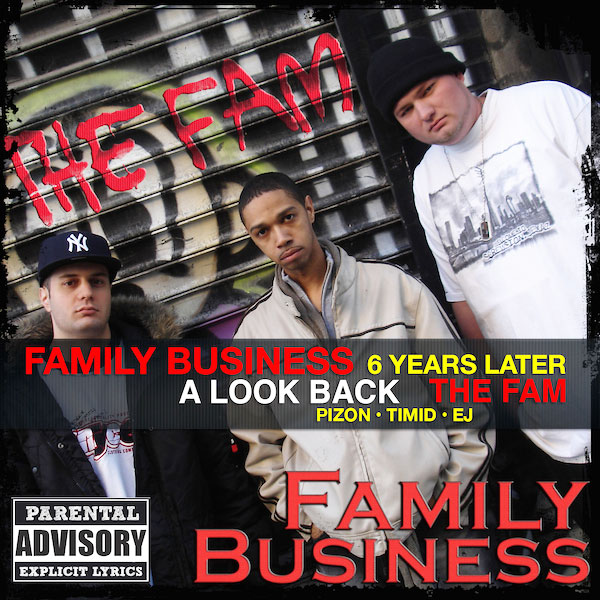 The Fam – Family Business: A Look Back (Episode 1)

In the first episode we introduce the series and marvel at how fast 6 years has gone by.
The Fam – Family Business: A Look Back (Episode 2) – Album Release Party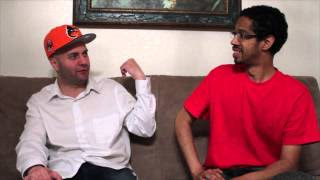 In this episode we discuss the album release party at the Bowery Poetry Club, the guests in attendance, and the way we put the show together.
The Fam – Family Business: A Look Back (Episode 3) – Get Off My Ass

Here we talk about the song "Get Off My Ass" produced by and featuring Mr. Porter aka Kon Artis of D12.
Family Business is Available on:
iTunes: https://itunes.apple.com/ca/album/family-business/id316425764
Bandcamp: http://thefam.bandcamp.com/album/family-business
Spotify: https://play.spotify.com/album/4tzpgtJO3hg3kjC7JMcZhe
About The Fam
With three different backgrounds resulting in three unique mindsets, the three members of The Fam offer a fresh take on Hip Hop. Pizon, a native of Queens, has been on the scene all decade, recently signing with Rawkus Records. His rhymes are a product of the harsh realities of his troubled life. Timid, having lived on all four coasts and calling Hawaii home, stakes his claim wherever Hip Hop may manifest worldwide. He brings a global perspective to the table. EJ, a representative of Houston, effortlessly combines East Coast lyricism with Dirty South flavor.
Timid: http://www.TimidMC.com | http://www.twitter.com/timidmc | https://instagram.com/timidmc1/
Pizon: http://www.PizonIsHipHop.com | http://www.twitter.com/mikegscala
EJ: http://twitter.com/EJTexasMade