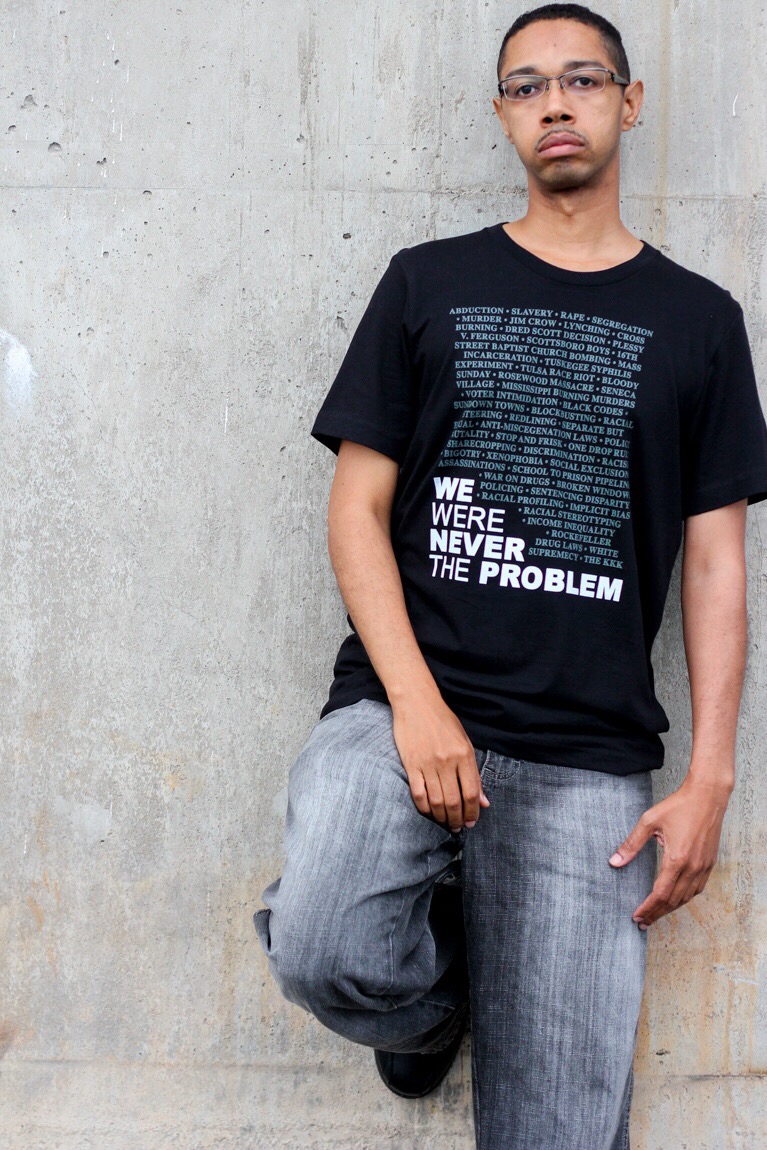 Remind the world and yourself that We Were Never The Problem. It's a message that I think needs to be said because when we stand for equality or against injustice against us we are demonized. The narrative is always formulated to paint us as the bad guy. We didn't create these issues. We Were Never The Problem. The origin and responsibility is not on us. The root of the problem needs to be corrected. There's no hate in this message – just setting the record straight.
Get the new shirt in the online shop and remind the world.
The shirt face reads:
"We Were Never The Problem
Abduction • Slavery • Rape • Segregation • Murder • Jim Crow • Lynching • Cross Burning • Dred Scott Decision • Plessy V. Ferguson • Scottsboro Boys • 16Th Street Baptist Church Bombing • Mass Incarceration • Tuskegee Syphilis Experiment • Tulsa Race Riot • Bloody Sunday • Rosewood Massacre • Seneca Village • Mississippi Burning Murders • Voter Intimidation • Black Codes • Sundown Towns • Blockbusting • Racial Steering • Redlining • Separate But Equal • Anti-Miscegenation Laws • Police Brutality • Stop And Frisk • One Drop Rule • Sharecropping • Discrimination • Racism • Bigotry • Xenophobia • Social Exclusion • Assassinations • School To Prison Pipeline • War On Drugs • Broken Windows Policing • Sentencing Disparity • Racial Profiling • Implicit Bias • Racial Stereotyping • Income Inequality • Rockefeller Drug Laws • White Supremecy • The KKK"
We didn't cause any of those things, they were perpetrated against us. Don't allow the narrative of us being the aggressive troublemaking thugs stand unchecked.
Spread the message.
#wewerenevertheproblem